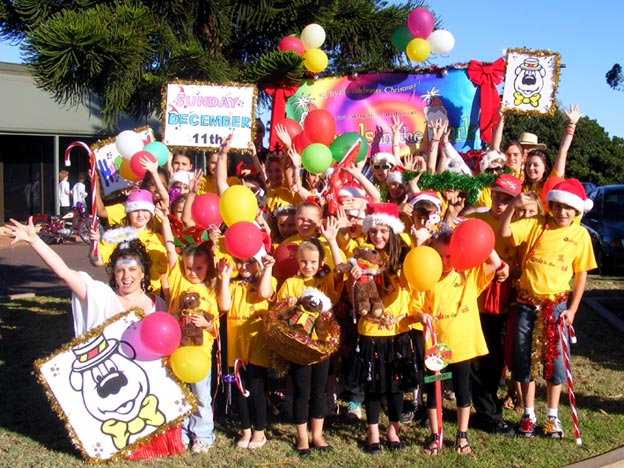 Our 2011 APEX Christmas Pageant crew at the completion of their walk!
A bright Christmas-clad crew of 39 walked the 2011 APEX Christmas Pageant under beautiful clear skies to promote
LIONS Onesteel "Carols In The Park" to stage in Whyalla's Civic Park on Sunday 11th December.

Our biggest-ever display marks the third year Stormfront has organised this great promotion for "Carols In The Park"
and the parade is a pleasure to be part of since the Pageant has found renewed energy in recent years.

As Stageshow Coordinators for "Carols In The Park" - itself the biggest free concert event in regional SA -
Stormfront was very proud of it's 2011 crew who dressed in their Alliance One "Carols Community Choir" uniforms,
and every imaginable combination of extra Christmas accessory.

This year we also saw a strong Humphrey B. Bear content in advance of the Australian children's TV icon's
return to the Civic Park event on 11th December after a knockout performance in 2009!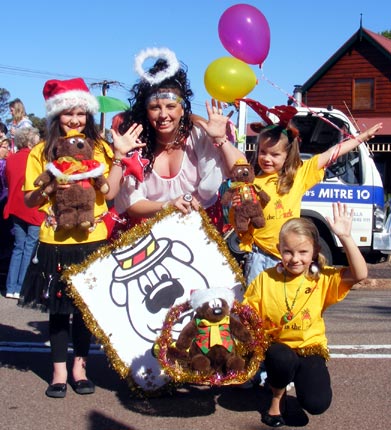 L to R:
Erin, Alison, Lauren and Jordan ready to walk the Pageant!
Our 2011 APEX Christmas Pageant Crew:
Erin O'Halloran * Alison Hams * Jordan Godfrey
Jade Harvey * Hayley Grinter * Lucy Ayling
Lauren Dempsey * Madelaine Bamford * Michaela Sandy * Amali Kaesler
Ashlee Sudholz * Olivia Andon * Stephanie Milovski
Matilda Sweeney * Emily Rawlings
Maria Alboino * Brianna Bolitho * Claire Gordon * Sarah Bolton
Tammi Godfrey * Brian Marshall
Sophie Harris * Amber Taylor
Victoria Wood * Jaylee Daniels * Amy Donnellan
Ellise Hill * Michaela Hickey * Febee Smith
Sophie Tonkin * Jordie Arbuckle
Abby Goodwin * Rebecca Foulkes * Predita Aiman
Daniel Marinkovich * Shane Morton * Mackenzie Hill
Craig Grinter * Mark Tempany

THANK YOU to:
Brian Marshall and Mount Laura LIONS Club
and...
ALL our fantastic students & parents!