A 26-strong Carols Community Choir crew volunteered their time to perform an hour-long
Christmas Concert for residents of Whyalla's Annie Lockwood Court aged care facility.

Sharing their endless energy after 15th December's massive "Carols In The Park" performance in front of 5000+ people in Civic Park -
Choir members and residents alike were delighted with this opportunity to continue the Christmas Spirit in such a worthy way.

In 2010 Stormfront pioneered this "give it back" initiative for the local community as part of the
annual "Carols" event - and have continued to perform at Aged Care facilities every year since.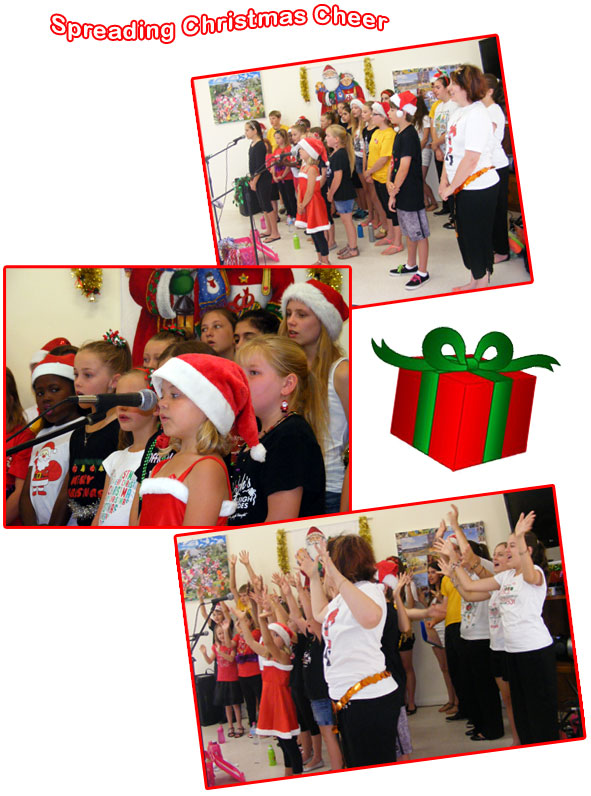 Our 2013 cast was:
* Zali Minday * Alicia Butt * Ashlee Sudholz * Blake Brougham * Bree Puddy * Ciara Francis *
* Ellise Hill * Emily Rawlings * Isabella Garde * Layna Gill * Logan Wagner *
* Lucy Broekx * Mackenzie Hill * Maria Alboino * Minette Schoeman *
* Natasha Taylor * Nemayah Munday * Olivia Clark * Rahni Wagner * Rhiannon Butt * Rhys Sudholz *
* Richelle Kneebone * Sarita Trinidad * Sequoia Minday * Shane Morton * Tehan Schoeman *
* Mark Tempany * Alison Hams
THANK YOU to:
Gail Franklin & Annie Lockwood Court Aged Care
ALL our fantastic students & parents!