Whyalla's McDonald's Family Restaurant
staged a fantastic outdoor festival as part of 2016's annual
McHappy Day - a fundraising event for Ronald McDonald House Charity.


Stormfront Productions was thrilled to donate a non-stop 4 hour programme of musical entertainment to
the event - and along with appearances by Whyalla Community Brass, and Whydale Calisthenics-
kept the crowds entertained with music by artists of all ages and styles.


To kick off proceedings our ROCK BAND 101 crew staged a fantastic 30 minutes of
classic rock tunes before the Acoustic Youth Showcase wowed the audience.


Emma Taylor was next to the microphone performing her songs on guitar and ukulele
followed by Mark Tempany & Alison Hams who presented a set of their original material.


Last but never least - the Stormfront Students SING! team once again delighted one and all
with their colour, enthusiasm and talent!

DON'T FORGET:
You can donate MORE to McHappy Day
HERE!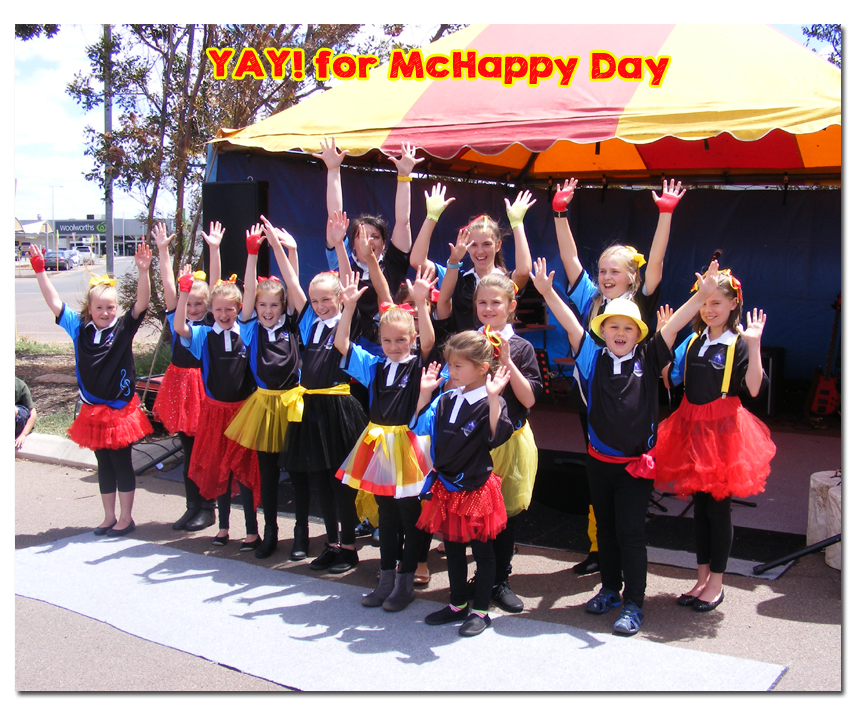 The 2016 cast was:
Jaylee * Ky * Logan * Trinitie
Maddie * Shakira * Alicia * Emily
Romy * Saraya * Breeze
Myah * Keira * Maddie * Madi * Skylar
Isabella * SP * Tash * Ella * Sophie
Lauren * L'Lianna * Chloe
Whyalla Community Brass * Whydale Calisthenics
Emma Taylor * Mark Tempany * Alison Hams
THANK YOU!
Hannah & the "McDonald's Whyalla" crew
Everyone involved in the outdoor festival
...and all our amazing performers!