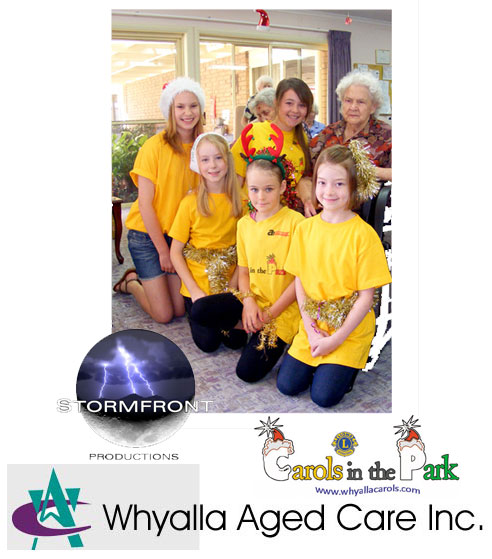 MONDAY 19th DECEMBER 2011
1.30-2.30pm Copperhouse Court Aged Care Whyalla, SA
A 24-strong Carols Community Choir crew volunteered their time to perform an hour-long
Christmas Concert for residents of Whyalla's Copperhouse Court aged care facility.

Sharing their endless energy after 11th December's massive "Carols In The Park" performance in front of 5500+ people in Civic Park -
Choir members and residents alike were delighted with this opportunity to continue the Christmas Spirit in such a worthy way.

In 2010 Stormfront pioneered this "give it back" initiative for the local community as part of the
annual "Carols" event - with a debut concert held at Annie Lockwood aged care facility.

This year's performance at Copperhouse also saw everyone pay special thanks to Choir member
Hayley Grinter who celebrated her twelfth birthday on the day!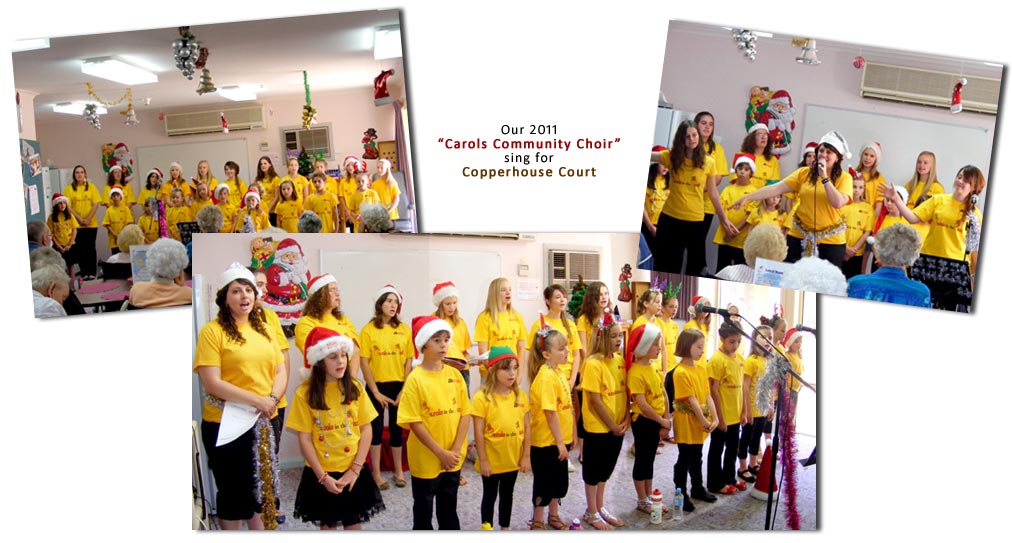 Our 2011 cast was:
Alyssa Leopold * Ashlee Sudholz * Brianna Bolitho * Claire Gordon * Ellise Hill
Emily Rawlings * Erin O'Halloran * Hayley Carter * Hayley Grinter
Jade Harvey * Jaylee Daniels * Jordan Godfrey * Lucy Ayling
Mackenzie Hill * Madelaine Bamford * Madeline Rademaker * Maria Alboino
Meg Sheasby * Stephanie Milovski * Tammi Godfrey * Tayla Harvey * Lauren Carter
Mark Tempany * Alison Hams
THANK YOU to:
Donna Sheasby & Copperhouse Court Aged Care
Rob Golding & staff
ALL our fantastic students & parents!