SATURDAY 26th FEBRUARY 2011
2.00-5.00pm
Middleback Theatre Whyalla, SA

Saturday 26th February 2011 saw a comprehensive cast of performers take to the stage at Whyalla's Middleback Theatre
to raise money for victims of the recent flood catastrophes across Australia.

As a result, Country Arts SA's Flood Relief Concert will donate over $6000 to the Salvation Army's Flood Appeal -
and a bumper crowd enjoyed a fantastic and varied 3-hour concert.
The stellar local cast (in order of performance)comprised:
Whyalla Stage Band
Phill Stone (MC)
BC Boys (Gavin Chandler & Peter Brown)
Y Dance
Aikido Yuishinka Whyalla
Whyalla Ballet School
Whyalla Players
Abby Goodwin
Stormfront Students Sing!
Whydale Calisthenics
BDS Dance Academy
D'Faces Of Youth Arts
Mark Tempany & Alison Hams
Whyalla Hip Hop Dance School

A patriotic Finale of "I Am Australian" provided a spectacular end to a wonderful day for our bunch of talented and dedicated girls who -
along with ALL cast & crew - volunteered their time for the performance.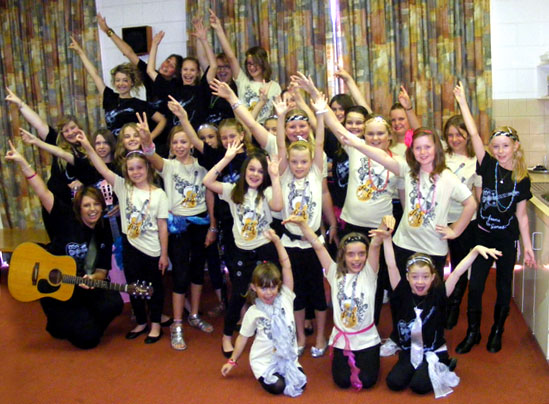 Our "Flood Relief" cast was:
Alana Bray * Hayley Carter * Hayley Grinter * Lauren Carter * Lucy Ayling
Bonnie Taylor * Michaela Sandy * Stephanie Milovski * Madelaine Bamford * Rebecca Bubicich
Shakira Fauser * Sophie Harris * Tia Bails * Olivia Andon * Jade Harvey * Breeze Millard
Erin O'Halloran * Emma Taylor * Ellise Hill * Caitlyn Utting * Victoria Wood
Asha Reed * Jordie Arbuckle * Emily Rawlings * Meg Sheasby * Rebecca Aspey
Mark Tempany * Alison Hams
THANK YOU to:
Ryan Sutherland, Paul Travers & crew (Middleback Theatre)
The fantastic WHYALLA cast!
ALL our fantastic students & parents!