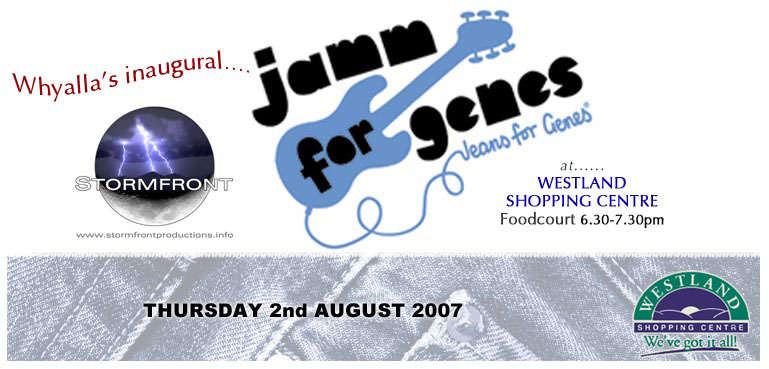 On Thursday 2nd August Stormfront organised its inaugural "Jamm For Genes" performance for students at
Westland Shopping Centre to raise funds for the national "Jeans For Genes" charity.

"Jeans For Genes" funds The Children's Medical Research Institute (CMRI) -
an independent organisation committed to unlocking the mysteries of genetic diseases in children.

"Jamm For Genes" is an initiative to encourage musicians & their love of music to sponsor this wonderful charity each year.

This year's performance featured 17 performers in a range of solo, duo and group songs -
with some singers making their stage debut in the Westland Foodcourt in front of an enthusiastic crowd.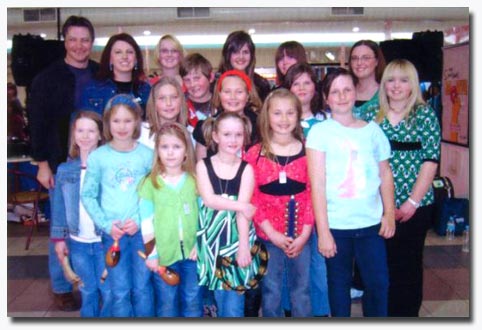 Our 2007 cast was:
Hayley G. * Meg Sheasby * Imogen Hulsman-Benson * Jade Dugan * Justine Chalmers
Georgia Davidson * Lauren Green * Hayley Marshall * Holly Clappis * Kaitlyn Green
Kat Korrosy * Sophie Gonzales * Emma Taylor * Sam Dowling * Caitlin Davidson
Mark Tempany * Alison Hams
THANK YOU to:
Clare McLaughlin & Westland Shopping Centre
St. Johns Secondary College
Whyalla News
Fred & Cobi Hams
ALL our fantastic students & parents!