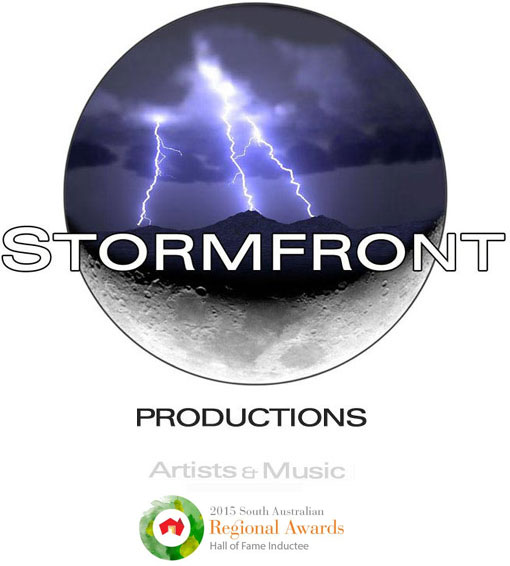 Stormfront Productions began in Queensland in 1994 as
a vehicle to manage the burgeoning business needs of the recording & performance career of
multi award-winning Australian singer songwriter and touring artist Mark Tempany.

As Mark's career grew, Stormfront became a "one stop shop" acting as national & international booking agent, graphic artist,
website designer and marketer & distributor of his independent music which has now sold over 15,000 units worldwide.

In 2004 Stormfront began coordinating the professional music career of Mark's now musical partner (and now wife!) -
South Australian singer and songwriter Alison Hams.

Alison's career had already hit great heights and since becoming part of our team
she has released her "Remember" compilation album and Jelly Baby Song charity single
which reached Number 3 on the Australian iTunes Childrens Chart.

Mark & Alison represent decades of international experience & dedication at the highest professional level -
exactly why they have been elevated into the South Australian Country Music HALL OF FAME
and Brand South Australia HALL OF FAME

Stormfront's ELITE professional expertise in ALL aspects of the Music Business (on and off-stage)
means we will always offer the RIGHT ADVICE the first time for:


* Event Management, Production & Consultancy
(We'll create anything of any scale, we'll run it, we'll advise on it)

* Sound and Lighting Production
(We'll stage it, engineer it, light it)

* Graphic Art & Web Design
(EVERYTHING from taking the photos to publishing anywhere & anyhow)

* Audio & Video Recording via our in-house studios
(Anything from walk-in demo's to commercial release)

* Workshops, Masterclasses and Music Tuition
(We'll stage it, we'll teach it, especially for you)

* MC services for all events and ceremonies

* Voiceovers and Broadcast Adverts
(We'll write & record it entirely in-house, or with the content you desire)

* Adjudication for Talent Quests & Eisteddfods
(We'll create it, run it, stage it, judge it & advise on it)

* Specialty Repertoire (such as the National Anthem) for your function

* Music Industry & Media planning and mentorship
(Our proven knowledge tailored for your use - and dedication beyond belief)

* Consultants and providers of online sales and distribution

* Registered "Test & Tag" electrical service

......and SO MUCH MORE!
In 2006 Stormfront became Stageshow Coordinator for Whyalla's "Carols In The Park" -
the city's annual community Christmas celebration which has now grown to become
regional SA's biggest free public concert event (attracting over 5000 people each December).

In 2016 Stormfront launched and are the major sponsors of the "Whyalla Recording Scholarship" -
an opportunity for a young Whyalla-based musician aged between 12 & 19 to win a year-long professional
recording package & career mentorship to take their original music "Beyond The Horizon".


"Carols In The Park"and "WRS" are both very special events of which our team is immensely proud!
A small selection of other events and initiatives Stormfront has featured prominently in staging includes....
Tamworth Australasian Country Music Festival (NSW)
Mildura Country Music Festival (VIC)
QRA Sunnie Awards (Brisbane, QLD - now QLD Music Awards)
South Australian Country Music Awards (Barmera, SA)
Murraylands Music Festival (Tailem Bend, SA)
Galston Festival (Sydney, NSW)
Lord Howe Island Country Music Festival (NSW)
Waltzing Matilda Celebrations (Winton, QLD)
Country Arts SA "Celebration" Concert (Whyalla, SA)
"Palma Rosa Poets (Brisbane, QLD)
Fishy Fringe Festival (Whyalla, SA)
Mark Tempany In Concert (1994-2006 QLD/NSW/VIC/SA/ACT/WA/NZ/USA/CANADA/UK/FRANCE/BELGIUM/NETHERLANDS/GERMANY)
Mark Tempany & Alison Hams In Concert (2005-present QLD/NSW/VIC/SA/WA/NZ)
SA Council of Country Music "Showcase" (Adelaide, SA)