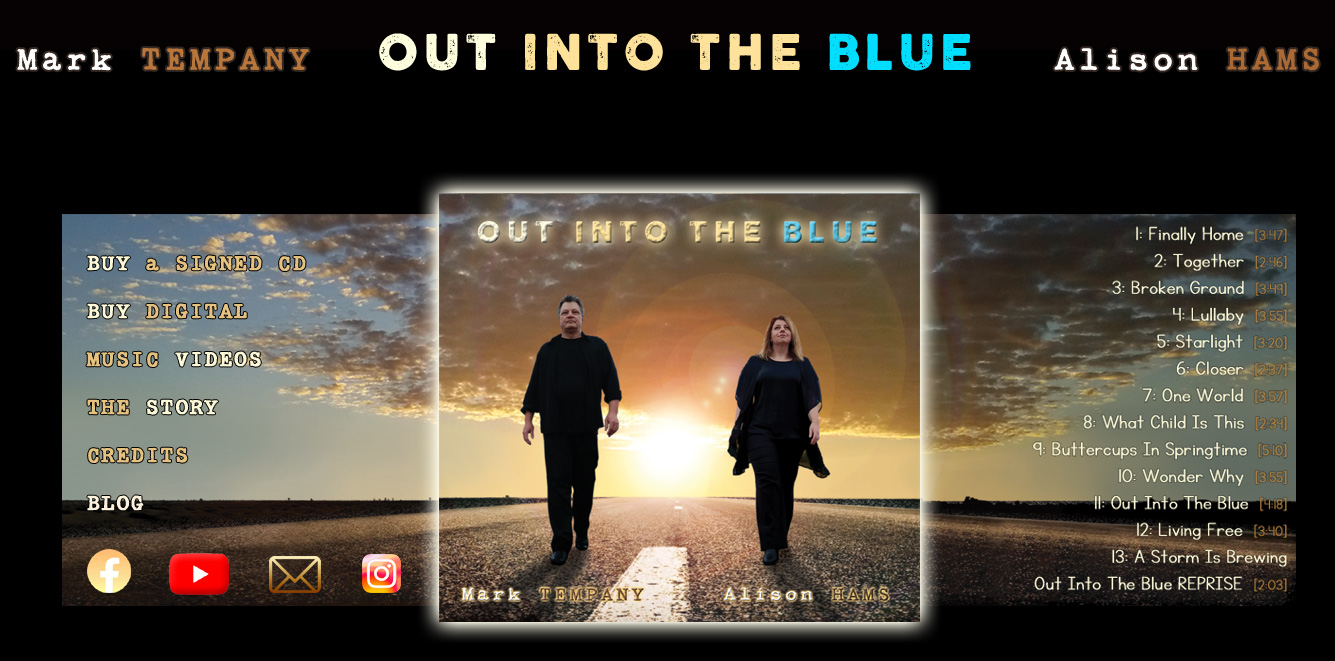 It's much easier to define when an Album is "finished" as opposed to
"When did this all start?"
For the two of us we've played, sung & written music since we were kids -
and in many ways that innocence is still alive despite some decades of
experience across the globe & in life to look back on.
We both started Professionally recording & performing our music quite some time ago -
Mark's first CD launched in 1994, and Alison's in 1998.
For nearly 15 years Mark toured from his proudly Queensland base,
while Alison continued to build a high profile from South Australia.
Through to around 2008 we maintained a pretty comprehensive Commercial music profile -
and one that had already evolved from "each of us alone" into "Mark & Alison"
after our meeting in (of all places!) Iron Knob in December 2003.
"Out Into The Blue" represents the culmination of the journey we've
both been on Together since that merging way back in 2003.
As we devoted more and more time to our burgeoning student rosters,
and served a tireless dedication to our local community here on the edge of
the South Australian Outback - somehow our own music took a distant backseat
to the needs of the several hundred others we were so keen to foster a love for music in.
As we built our studio & relentlessly upgraded & broadened it's abilities -
it always happened that everybody else got to use it - but never us!
As we were all confronted & challenged with a global Pandemic locking down
everything we'd know to be "normal" up to 2020 - we decided to
dedicate enough time & space to write, sing, and play for ourselves again.
The power & meaning of the songs that suggested themselves - and technologies never dreamed of
when we both started out in recording studios of the 1990's meant we could work with some of
the very best talents anywhere in the world to make something we're incredibly proud of.
In these terrifying & uncertain times we hope that our music can still inspire & heal
& that everyone can find a way to lead themselves "Finally Home".
We've missed you & we're happy to be back!
AH & MT