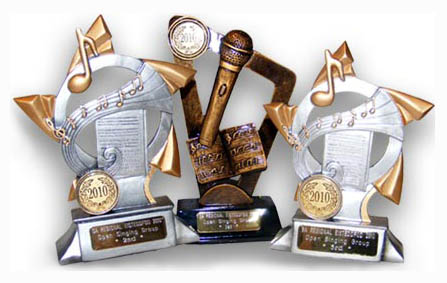 FRIDAY 3rd SEPTEMBER 2010
Middleback Theatre
Whyalla, SA
Friday night 3rd September saw the debut of a major performance event on regional SA's annual arts calendar -
the SA Regional Eisteddfod contested in Whyalla's beautiful Middleback Theatre.

Offering singing and dance students the opportunity to be expertly judged on their abilities in a premier theatre setting,
the Eisteddfod ran it's singing competition on 3rd September,
with Saturday 4th September devoted to dance competitors from all over the state.

The singing competition saw 36 items entered, across 9 age-based sections including SOLOS, DUOS and GROUPS.

Organisers were thrilled with the success of both competitions, and we hope
that the SA Regional Eisteddfod will become a fixture on SA's annual arts calendar!

CONGRATULATIONS
...to all our Stormfront competitors!


Every one of you did a fantastic job and we have been very impressed with both your performances -
and the positive feedback we've received from the judges on everyone of you!

Every section was VERY closely contested - and upon reviewing judging sheets
it's apparent that in all sections there was little that separated first from last place!
Full Sectional Results:
SA REGIONAL EISTEDDFOD
"*" Highly Commended / Special Mention
SECTION 1 - 6 TO UNDER 8 SOLOS:
1st. Trinitie Fazah
2nd. Hayley Carter


SECTION 2 - 8 TO UNDER 10 SOLOS:
1st. Jade Harvey
2nd. Mackenzie Travers
3rd. Lauren Carter
4th. Neve Hulsman Benson*


SECTION 3 - 10 TO UNDER 12 SOLOS:
1st. Meg Sheasby
2nd. Georgia Davidson & Hayley Grinter
3rd. Emily Rawlings
4th. Lucy Ayling*
5th. Breanna Jones*
6th. Abby Goodwin*
7th. Imogen Hulsman Benson*


SECTION 4 - 12 TO UNDER 14 SOLOS:
1st. Dayna Duncan
2nd. Caitlin Davidson
3rd. Ashlee Sudholz
4th. Erlin Eusebio*
5th. Alana Bray*
6th. Meg Bindi*


SECTION 5 - 14 TO 16 SOLOS:
1st. Madelaine Bamford
2nd. Jessica McMullen
3rd. Courtland Stopp


SECTION 6 - 16 AND OVER SOLOS:
1st. Emma Taylor
2nd. Sotiria Vlachoulis
3rd. Stephanie Bates
4th. Hayley Marshall*
5th. Sarina Barsby*


SECTION 7 - 8 TO UNDER 14 DUOS:
1st. Caitlin & Georgia Davidson
2nd. Hayley Grinter & Jade Harvey
3rd. Neve & Imogen Hulsman Benson


SECTION 8 - 14 AND OVER DUOS:
1st. Michaela-Kate & Madelaine Bamford
2nd. Stephanie Bates & Courtland Stopp


SECTION 9 - OPEN GROUPS:
1st. ABC 3
2nd. Stormfront City
3rd. Stormfront Boogie

THANK YOU to:
Jodie's Party Supplies (Whyalla)
Middleback Theatre staff
Judges Fred Hams and Brian Krawczyk

The SA REGIONAL EISTEDDFOD was pleased to once again offer Brian Krawczyk more experience in the field of Youth Music
in Whyalla, based on his own admission last year that he really hadn't explored this area, and as a drummer found it a
remarkably hard task to "be an all-rounder and judge vocals and guitar when it is not in your area of playing music".